The word samosa comes from the Persian word "Sanbosag". It is believed that it has to India from central Asia. After reaching India, the various transformation has happened with the recipe according to the region and all of it made a benchmark into it and made it one of the most popular recipe.
Here are the five region wise samosa recipes:-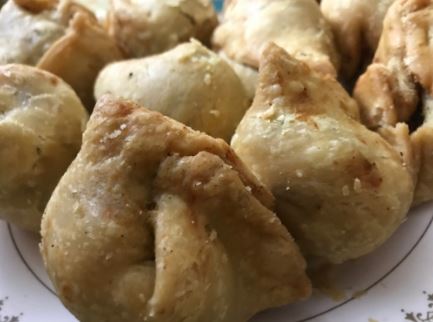 Shingara is a rename of "Samosa" which is called in Bengal and nearby regions. You will see this Bengali shingara at every house on any occasion or in evening snacks. This is same as samosa only but the filling is made with cauliflower, potato, peas and peanuts.
These kinds of samosas are generally bigger in size and spicy too. When it comes to stuffing, you will see paneer is stuffed with potatoes which is difficult to see in other regions. Also, raisins and cashews are used to increase the flavour and make the recipe rich.
Serving here is bit different, as it is served with chole (Chickpeas) and garnished with onion and chutneys.
Patti Samosa (Gujrati Samosa) :-
These kinds of samosa come from Gujarat where finely chopped cubed sized potatoes are used to make the samosa. Taste is quite different from other variety of samosa. Whole wheat flour is used in place of maida to make these samosa's because cabbage is used for filling, and, cabbage and maida don't go well with each other.
In Southern Part, you will find samosas bit different ad they resemble Portuguese chamucas. The filling is made up with fried onions, spices, carrots, peas, cabbage, green chillies and curry leaves and is served with coconut chutneys.
A totally different variety from the typical samosa. The shape and size are quite the same but the filling used here is made up with sweet ingredients and deep-fried in ghee. And, at the end, they are dipped into the sugar syrup.
These are the 5 top samosa recipes according to our list. Share your thoughts in the comments section. Also let us know which samosa recipe you would like to prepare at your home. We will share the dedicated recipe post for you and your loved once.
Cheers!!!