You must be a foodie and your love for food makes your visit here on this website. Being a foodie, you must be aware of various chaat dishes available in India. Out of which, if one asks you about the most common and favourite chaat dish, then the answer will be PaniPuri for sure. PaniPuri is the chaat dish that is available at each and every corner of India. You may experience a bit of difference in presentation and the ingredients used, but the basic recipe remains the same.
Though Panipuri is altogether a separate recipe, using those puris you can make several other dishes that are not only delicious but also attractive looking. Some of them are,
Dahi Puri – Chaats:-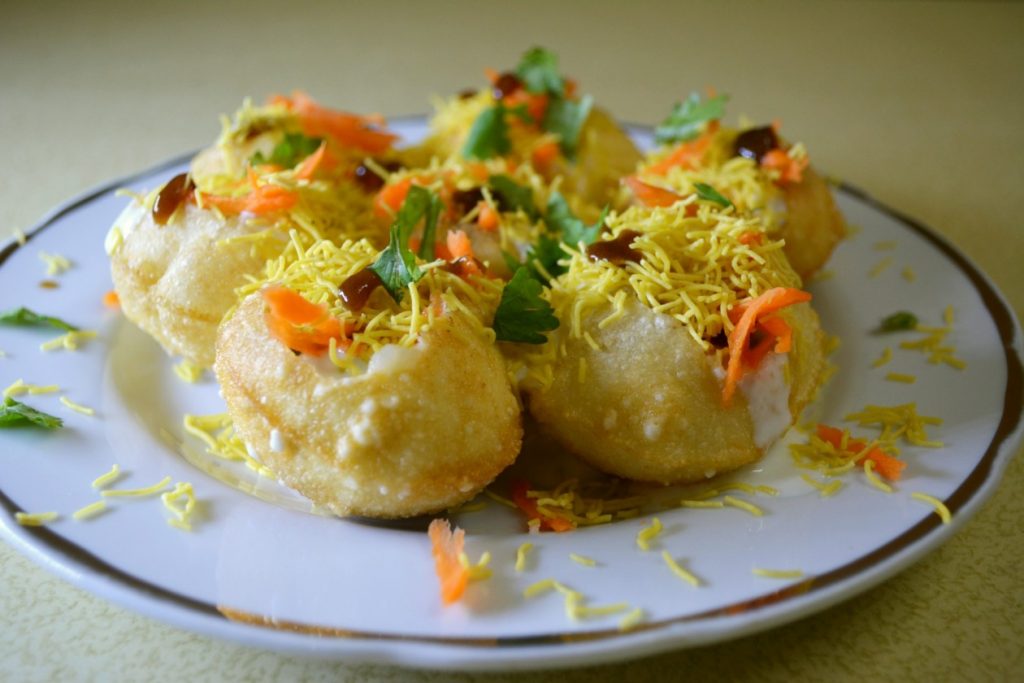 This is another member of the famous PaniPuri which is made using crispy puris. These crunchy puffed puris are stuffed with potatoes or sprouts and topped with various sweet, spicy and tangy chutneys. Also, finely chopped onions, tomatoes are topped with thick curd and sev at the end.

The ingredients itself are explaining how delicious this dish is going to be. This is an ideal option for the party or get-together snacks. You can also treat your guests with this delicious DahiPuri as this takes less time to prepare and is made with readymade ingredients.

Ragda Puri – Chaats :-
This is quite similar to Dahi puri, the only change is the stuffing, which is replaced with boiled peas (Batana) and curd is not used to make this dish. Rest all ingredients are the same. In the end, it is topped with various other spices.
Sev Puri – Chaats :-
This snack is origin from Mumbai and is most popular in the Maharashtra region. The main ingredients are Puri, potatoes, onions, chutneys and sev. This snack is strongly associated with a street snack. This is also known as Papdi chat where puri is replaced with papdi. This papdi is made using plain flour and it's harder than puri.