We celebrate the festive Ganesh Chaturthi with lots of enthusiasm. Let's know more about Lord Ganesha. Lord Ganesha also meant to be a Vighnaharta because he eradicates sadness, depression, obstacles from one's life and bring happiness to them.
Lord Ganesha needs to be worshipped before any other goddess or deity; which means he is Sarva Pratham Pujaniya. In case of any auspicious occasion, the first invitation is being offered to the Lord Ganesha. Lord Ganesha followers hail him as Sukhkarta (bringing sunshine and happiness) and Vighnaharta (who removes hurdles from others life). But, has anyone wondered; why Ganesh Chaturthi is celebrated on the fourth day of Shukla Paksha in Bhadrapada month?
Let's know the existence of Lord Ganesha came into being?
In holy books, Mata Parvati the, mother of Lord Ganesha and wife of Lord Shiva always appreciated Lord Shiva's bull – Nandi. Nandi was always devoted to Lord Shiva and for his service. She knew Nandi will strictly follow the Lord Shiva orders and, no matter; how tough the situation may be, he will never back out. So Mata Parvati, always look for the guard, who should be devoted to her.
Mata Parvati made an idol of a little boy from her skin with the help of her powers; she infused the life in that little boy. Later, the young boy emerged out from the sculpture and addressed Mata Parvati as her mother.
Mata Parvati was elated to have a son, and she was sure that the little boy will be devoted to serving her. Mata Parvati went to take a bath and had given instructions to his son that no one should enter the place without her consent. The little boy agreed and started following Mata Parvati orders and started guarding the place.
A little while, a little boy sensed that someone is around him, and it was none other than Lord Shiva. The life got infused to a little boy just a couple of hours back, so he was unknown to everyone except Mata Parvati. When Lord Shiva tried to enter the premises: the little boy stopped Lord Shiva as he was following the order of Mata Parvati. Lord Shiva was in suspense, who is this little boy and why is not allowing him to enter his adobe.
Lord Shiva made several attempts and tried to explain to the little boy; that he is Parvati's husband, so he should be allowed to enter the house. However, the little boy denied his request and refused to hear him. Subsequently, a little boy and Lord Shiva entered into an argument which flared into a massive fight. In a fit of rage, Lord Shiva beheaded the little boy with his Trishul (Trident). Lord Shiva took this step, as he did not know that a little boy is his son.
However, Mata Parvati got furious when he saw his son dead and beheaded. After this incident, Mata Parvati got enraged by what had transpired. The news got spread and other gods and goddesses requested Lord Shiva to calm Mata Parvati, or else she will banish the whole universe. Mata Parvati ordered Lord Shiva to infuse life in the little child and want him in the original form back. Lord Shiva ordered his devotees to go on earth and find the skull of the creature, but they need to bring the head, which they will sight first. As per instructions, all the Ganas started their mission; they came across an elephant that volunteering agreed to give his head off.
Finally, Lord Shiva infused the life of a little boy and, the head of the elephant was fitted or aligned instead of his original skull. It was not accepted, by Mata Parvati. However, she has to accept the reality, and finally, she got her son's life back. That's, how Lord Ganesha came into existence. In this whole process, Mata Parvati asked one Vardan from Lord Shiva that a little Lord Ganesha will be worshipped first before any diety. All gods and goddesses granted Mata Parvati her wish.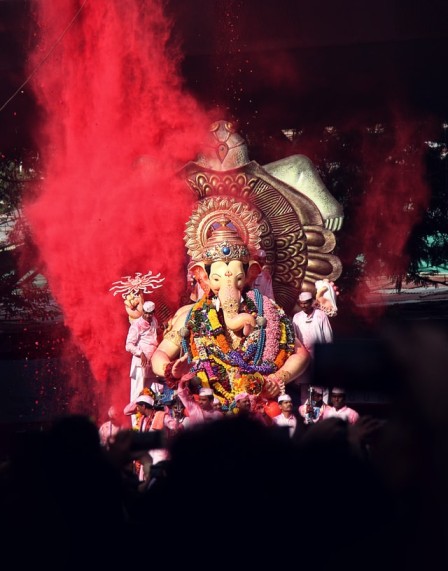 Why do we celebrate Ganesh Chaturthi?
To mesmerize the birth anniversary of Lord Ganesha, devotees celebrate the event of Ganesh Chaturthi. A little boy named Lord Ganesha got a lease of life on the Chaturthi Tithi, Shukla Paksha, and Bhadrapada.
How was Ganesh Festival started?
In the year 1883, Lokmanya Tilak, An Indian Freedom fighter initiated an event. He published the public event where he declared a launch of a domestic festival in his newspaper, Kesari. With his great efforts, he well organized a public event that got celebrated across caste and creed.