Janmashtami or Krishna Janmashtami has been celebrating across the countries. It marks the birth of Lord Krishna and the eighth incarnation of Lord Vishnu on the earth. On the eighth day of Paksha of the Sharavan month; Krishna Janmashtami is being celebrated and considered to be one of the most important Hinduism festive. In the sacred book of Hinduism, it is mentioned, Lord Krishna was born at midnight, hence devotes are awaken the whole midnight and sing devotional songs; they do the fast the whole day and performing aarti on the first sunshine of the day.
Krishna Janmashtami with the greatest pomp celebrated in cities like Brindavan and Mathura. With great enthusiasm, it is celebrated in different states of India, Tamil Nadu, Andhra Pradesh, Madhya Pradesh, Karnataka Manipur, Odisha, West Bengal, Rajasthan, and Gujarat.
All lord Krishna devotees perform certain rituals which follow singing, preparing special cuisines which are followed by fasting, and visiting the lord Krishna temple, and praying in communities. They also intone Bhagavad Purana and Bhagavad Gita.
In cities like Assam, Gujarat, Mathura, Manipur and Rajasthan, Krishna Leela and Ras Leela, are organized and performed. Various phases of Lord Krishna are enacted in the form of dance and dramas. It can be great learning for a future generation to learn about the inherited culture and our country through these festivals.
Let me review the history; according to our great legends, Lord Krishna was born to father Vasudev and Mother Devki. He has taken birth to banish evil from the earth and kill his uncle Kansa. It was prophesied that Evil Kansa will be killed by his sister Devaki and brother in law Vasudev eighth child. In fear, Kansa imprisoned his sister Devaki and her husband Vasudev. He started assassinating all the children born to Devki.
The eighth child of Devki was lord Krishna; he was born on eight-day Ashtami of the Krishna paksha in Shravan month. Lord Krishna was born at midnight, there was lightning that happened in the kingdom of Kansa where all people slept for the time being. Vasudev was guided by the lord to carry the infant (Lord Krishna) secretly across the river Yamuna to Vrindavan. He was mentioned to replace Krishna with the child born to Nanda and Yashoda.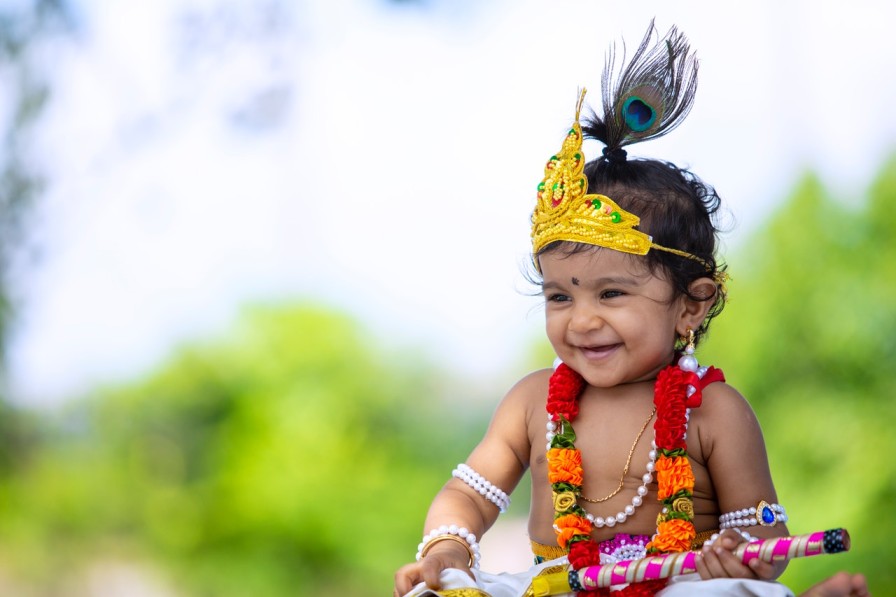 Lord Krishna grew up in Vrindavan and spends many years with Yashoda and Nanda. When Krishna grew up, he declared that he will attack Kansa and will kill him.
Taking back to Lord Krishna childhood days, he was a very mischievous kid. He controls the entire universe. However, he still takes the pleasure to steal butter from villager's houses and use to relish it. Her beloved mother Yashoda use to feed her favourite Makhan Mishri that was made from cow's milk, yet he used to steal Makhan from others. So, Krishna was also called Makhan Chor. On the Day of Janmashtami, freshly churned butter is one of the most important dishes offered to the deity.
It is one of the important dishes in the Chappan bhog; especially it is offered to Lord Krishna. Makhan mishri is one of the simplest dishes which is prepared and offered to Lord Krishna. Here is the Lip-smacking recipe of Makhan Mishri.
Makhan Mishri Ingredients – Shri Krishna Janmashtami
Course: Desserts, Festive Special
Ingredients
Water – 4 Cups

Cream – 1Kg

Curd – 1Kg

Mishri – 2 Tsp

Tulsi leaves – Few
Method to prepare Makhan Mishri on Shri Krishna Janmashtami
While boiling fresh daily milk, the cream is formed. Collect cream daily for a minimum of 1 week or two weeks (7-15 days) in a container; store it in a freezer or refrigerator.
On the 16th day, a vessel containing cream, add 1 cup curd to it, stir it well and need to keep it fermenting. The maximum duration should be of 8 hours.
After 8 hours of fermentation, whisk it or use a churner and run as much as possible for Makhan to get separate from the cream.
While you whisk, add some water. It will allow the butter to get collected and form lumps leaving buttermilk aside.
Now drain all extra water from butter and, if required. Add more water and whisk again so that your butter becomes more creamy and greasy.
Here, I have separated all the buttermilk from it.
Collect the butter/Makhan in a bowl topped with Mishri and Tulsi leaves.
Ready to serve as Prashad.